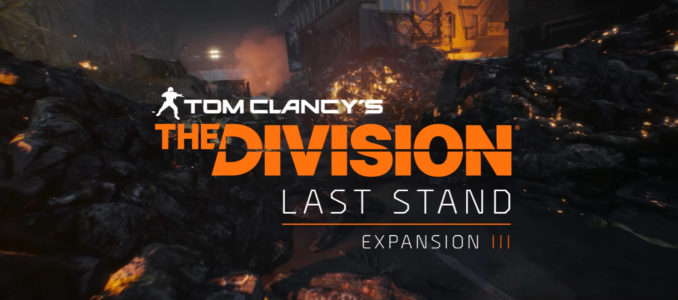 After yesterday's teaser trailer release we have finally got the full picture of The Division's third expansion. The Last Stand DLC comes with a new 8vs8 objective- and at the same time session-based PvP game mode in the Dark Zone, one of the most requested features since the game launched in March last year. Moreover it includes another Incursion: Stolen Signal without any further details on it.
Like the previous two DLCs, Last Stand will not only be available through the Season Pass, but also as a separate purchase. Furthermore it's now official that the free Update 1.6 and Last Stand will be released simultaneously on PC, Xbox One and PlayStation 4.
A release date will be revealed soon.
Last Stand
Last Stand will change the way you experience the Dark Zone. Together with a group of 7 other Division Agents which is again divided into 2 sub-squads of 4 players each, you will be fighting against another team of 8 Rogue Agents to secure important tactical terminals – SHD tech data relays loaded with operational information – the Joint Task Force was forced to left behind because the situation in the Dark Zone went out of control.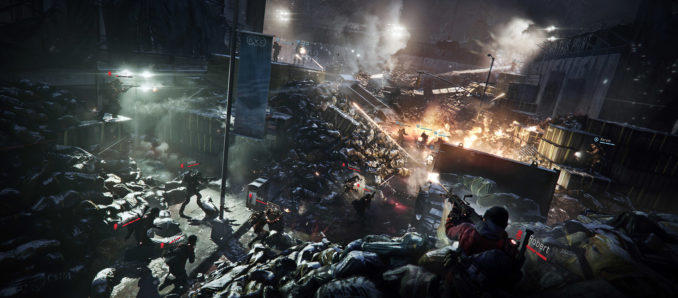 Your job is it to prevent the Rogues from reaching and accessing these terminals as it would be catastrophic for the SHD and the mission to save New York.
A tactical terminal located next to the recalibration station in the Terminal allows you to get started with Last Stand. Character level 30 is required.
Game Mode
It's a fully objective-based arena like game mode, running in its own instance and the goal is it to take control of aforementioned terminals in certain locations of the Dark Zone.
While the game will always treat your team as the good one and your opponents as Rogues for lore reasons, the Rogue Protocol itself doesn't get activated when you are killing an enemy, meaning that you won't lose any DZ Funds or DZ Rank experience in case you are getting killed by someone else.
The team which transfers enough information first in a maximum 20 minutes long round wins the match.
Locations and Encryption Points
Because the current size of the DZ would exceed the size of a standard multiplayer map, the Dark Zone will be split into four different areas (DZ 1-3, 4-6, and the new Dark Zone areas 7-8 and 8-9 respectively). Yes! New areas will be added to the Dark Zone, more about that can be found after our introduction of Last Stand – further down below!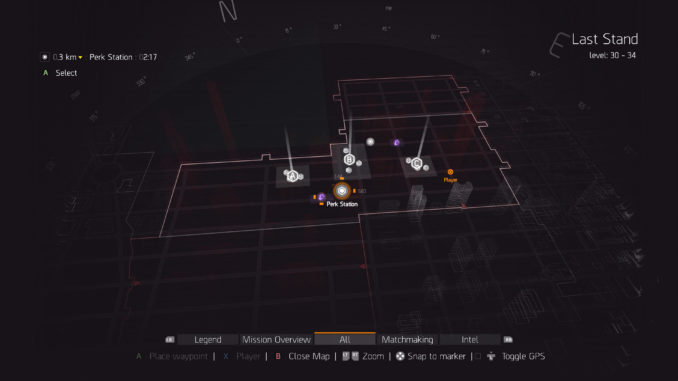 Each map is divided into three tactical locations, namely A, B and C, while those in turn are also separated into three encryption points which all need to be controlled first before the data transfer starts. The more zones and points you control, the faster the data upload and the higher the chance to win! However, don't forget about your enemies who will also try to neutralize these points in order to capture them for themselves.
Once a terminal is captured, a so called spawn relay will be activated, which gives you more variety through a spawn overview in the megamap to get back into the fight if you get killed. As the game progresses, this rule changes and you would automatically spawn close to one of your team mates, for a more aggressive game towards the end of the round.
Matchmaking and Balancing
Matchmaking for Last Stand works similar to that for the Dark Zone. It's not only considering your current Gear Score though, which by the way won't be increased in 1.6/Last Stand, but also verifies your previous game results and how well you have played in them.
Furthermore, a new form of balancing for player builds should guarantee a better, fairer and more skill focused experience than in the regular Dark Zone, by limiting the Gear Set and stat randomness.
It's also up to you if you are queuing up solo or together with up to three friends, what you can't control, however, is the other half of your team that gets formed in the same way to finally be able to enter the game with an eight-man group.
PvP and PvE
NPCs and the Landmarks you know from the current regular Dark Zone will not go away in Last Stand. There will be even more since control points are also guarded by elites you have to deal with before accessing the terminal. The only difference is that roaming NPCs will not always drop loot, while the elites who are guarding the control points won't respawn anymore. Killing NPCs will additionally reward your team with SHD tech.
SHD tech is a team resource and currency which can be spent on tactical boosts and used for fortifications like the automatic turret we have seen in the trailer, or a large Pulse to detect incoming enemies.
This equipment was also left behind by the JTF and the first wave of Division Agents and is perfect for defending your "home" base – the tactical location you spawn the closest to when the match starts.
Tactical Boosts
Besides fortifications, tactical boosts are a key part of Last Stand and can turn matches around. By spending SHD tech at tactical boost stations that come online after some time in the game, you can get temporary team bonuses like faster data upload or more points for killing enemies.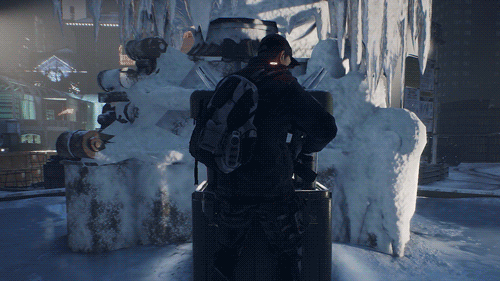 As soon as the timer for a bonus runs out, the station can be activated again by trading in another amount of SHD tech. Note that a station can only be activated by one team at a time.
Rewards
Last Stand comes with two unique, full vanity sets and two sets of weapon skins that cannot be obtained outside of this game mode. Moreover it features a progression system like the one in Underground, with maximum rank 40 and Sealed Caches filled with items as a reward for each rank – and even for "ranking up" after rank 40.
Because the Rogue Protocol isn't active, you can only gain experience points and not lose them anymore – just the same as it's implemented for Underground. Matchmaking is also considering your Last Stand Rank.
Extra rewards are given out when your team wins and similar to Survival, more than 30 other actions are tracked during the match that can increase the number of rewards even more. All rewards are only given out at the end of the match.
---
Update 1.6 DZ Extension
It's now officially confirmed that the Dark Zone will be extended to the North, with 3 additional subzones (DZ07-DZ09 ~ DZ North) in total. However, it seems so that the Central Park itself is not included in the playable areas as the second screenshot above is showing. Also the player count of 24 players per Dark Zone will stay the same.
Here are some short facts about DZ North:
Darker than the subzones we already know
More accessible buildings, rooftops and underground areas
Almost half the size of the existing 6 subzones in the current Dark Zone
More detailed information about those changes will be published soon. If you want to rewatch today's State of the Game stream, you can do this here on Twitch.
---
PTS
A PTS will go live soon for Season Pass holders to test Last Stand and to provide feedback for the new gear balancing and 1.6 changes in general.
We will have to wait a couple of more hours or days to get new information on this too.
Source: Official Website