Some of you might have noticed the inactivity here on our platform and related social channels. The reason for this is that we, unfortunately, had to pause our little project here on The Division Zone for more important things out there that couldn't have waited any longer to address in the last year.
We are sorry for this and at the same time thankful to all of you who continuously came back and supported us during that time, but are also glad to announce that we will do our best to catch up and be back with covering all things about Ubisoft's upcoming Tom Clancy's The Division 2 and everything else related to this great franchise.
Lots of things have changed since then, Commendations, Global Events, new vanity items, just to name a few of them and due to lack of time, there are many features that are yet more or less still completely unknown to us. Fun times ahead! ☺
However, after the announcement of new content for The Division's third year as well as The Division 2, we are very excited to see what Ubisoft has prepared for all of us. We'll try to continue from the point we have stopped at and will do our very best to become, once again, a valid source with up-to-date information for you and other agents out there!
---
Last but not least, here's a quick recap of what we know about The Division 2 and The Division's Year 3 so far.
The Division 2 Announced
On March 8th, 2018 – The Division's 2nd anniversary – Massive Entertainment has announced the game's sequel with no other name than The Division 2. The team is very thankful for the experiences it was able to gain throughout the last couple of years and is now looking forward to delivering a worthy successor with part 2.
That said, we've always envisioned the story in the game we launched in 2016 as the beginning chapter in a larger saga, and today we're excited to share more info about what's next for The Division universe.Julian Gerighty, Creative Director, Massive Entertainment
While Massive is again in charge of the lead-development, they are collaborating with other Ubisoft studios who have worked on The Division before, such as Ubisoft Reflections, Red Storm Entertainment, Ubisoft Annecy, Ubisoft Shanghai and Ubisoft Bucharest.
On behalf of all the teams at Ubisoft, we thank you for the support you've given us over the past two years, and we hope that our continued work will earn that support for many years to come. We can't wait to show you what we have in store for The Division 2 at E3 2018 in June. See you then!Julian Gerighty, Creative Director, Massive Entertainment
Ubisoft at E3 2018
Speaking of E3 2018, which will open its doors from June 12th to 14th in around 3 weeks, Ubisoft will announce and release 3 new AAA-titles within its next fiscal year (ends March 31st, 2019).
By now we already know that The Division 2 is one of them, so we can expect the game to be released sometime during the next 9-10 months and before the aforementioned fiscal year ends.
Save the Date, #UbiE3 is coming! Join us on June 11, from 1pm PT.
More to come, stay tuned… pic.twitter.com/0WcPSSiQv2

— Ubisoft (@Ubisoft) 17. April 2018
More Content at Launch
Furthermore and according to Ubisoft's CEO Yves Guillemot from this year's financial conference call, Ubisoft is planning to add much more initial content when the new game launches compared to what has been delivered with The Division two years ago, and that they will continue supporting it once it's released – like they are doing it right now.
…a lot of content at launch and to be ready to continue to supply a lot of content during the years that will follow the launch…Yves Guillemot at Ubisoft Financial Conference Call 17-18
Source: DualShockers
---
The Division's Year 3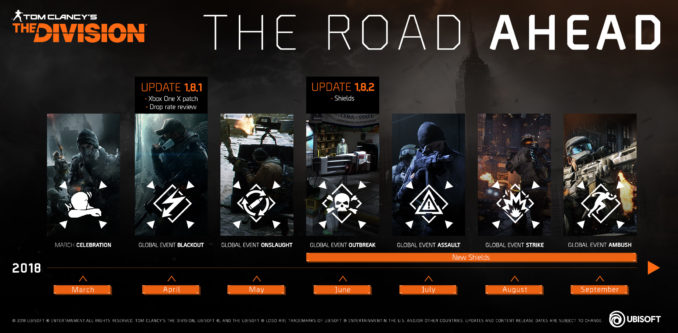 Although a big part of the team is most likely working on The Division 2 right now, the developers didn't forget about part 1 and the The Division's third-year roadmap.
Therefore they will add new content in form of additional Global Events and have already added the Legendary difficulty mode to Amherst's Apartment and Grand Central Station. More adjustments and fixes will be made for sure in order to keep players challenged, motivated and engaged.
Update 1.8.2, which is scheduled to be released sometime in June, will moreover add a new feature called "Shields". Shields are special achievements with which players will be able to unlock rewards in The Division 2.
May – New Global Event: Onslaught.
June – Update 1.8.2, which will introduce two more Legendary mission modes and bring back Global Event: Outbreak. This update also marks the beginning of the brand new Shields monthly feature, in which achievements earned playing The Division will grant special rewards in The Division 2.
July – Global Event: Assault, with the continuation of Shields.
August – Global Event: Strike, with the continuation of Shields.
September – Global Event: Ambush, with the continuation of Shields.
Stay tuned for more information!