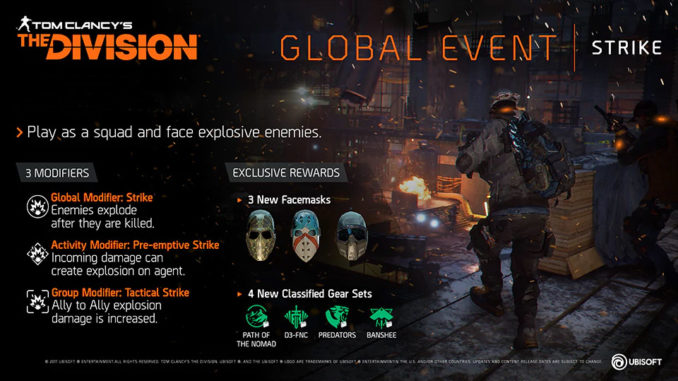 While the extended free week of Survival has ended today, The Division's Global Event Strike is now back for another week from August 27th to September 2nd and allows you once again to collect exclusive rewards and Classified Gear Set pieces.
By completing the challenges of this Global Event, you can earn the Classic, Rider, and Jungle facemasks – as well as Classified versions of the Path of the Nomad, D3-FNC, Predator's Mark and Banshee Gear Sets.
The following modifiers will be live during the event:
Global Modifier: Strike
Always active; Enemies explode after they are killed.
Activity Modifier: Pre-emptive Strike
Strike behavior plus incoming damage can create an explosion on the agent.
Group Modifier: Tactical Strike
Pre-emptive Strike behavior plus Ally to Ally explosion damage is increased.
Please note that if you've already earned the Strike weapon skins and vanity outfit, leaderboard caches will not give new rewards.
More information about The Division's roadmap for 2018.