The Division 2 releases in around two weeks on March 15th, which why today's State of the Game episode was focusing on the upcoming free content for Year 1, the included bonuses of the Year 1 Pass and the game's monetization options.
Free Year 1 Content
With an extensive post-launch plan in mind, the developers will release new free content for all players during the course of the first year.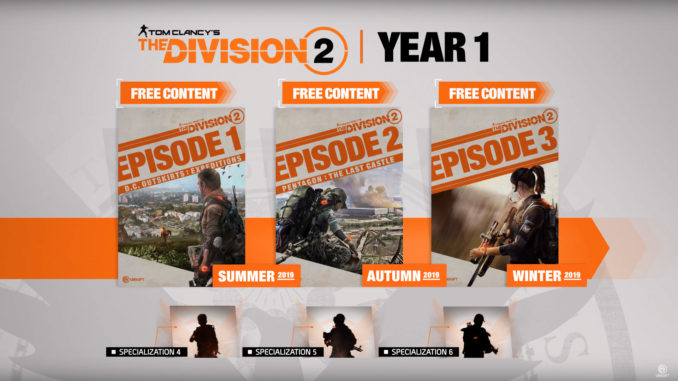 Besides three Episodes that will expand the story of the game by introducing new narrative driven content, new ways to play the game should lead to unique experiences each time you set foot in Washington, D.C.
Episode 1 "D.C. Outskirts: Expeditions": Explore the surrounding areas of Washington while chasing down elite members of the Outcasts and the Black Tusks and fight for the liberation of the city in new locations. (Summer 2019)
Episode 2 "Pentagon: The Last Castle": Unveil what secrets lie inside this well-protected maze, one of America's most iconic locations. (Autumn 2019)
Episode 3: Concludes The Division 2's Year 1 and paves the way for more content. (Winter 2019)
Moreover, three new Specializations will be added and can be unlocked for free later on, featuring new Signature Weapons and skill trees. And with the first 8-player raid "Operation Dark Hours" starting at the Ronald Reagan Washington National Airport, more challenging activities such as "Tidal Basin" – a faction Stronghold controlled by the Black Tusk – will follow.
Players can expect much more content to come, including Quality-of-Life improvements, bug fixes, balancing tweaks, cosmetics, etc.
---
Year 1 Pass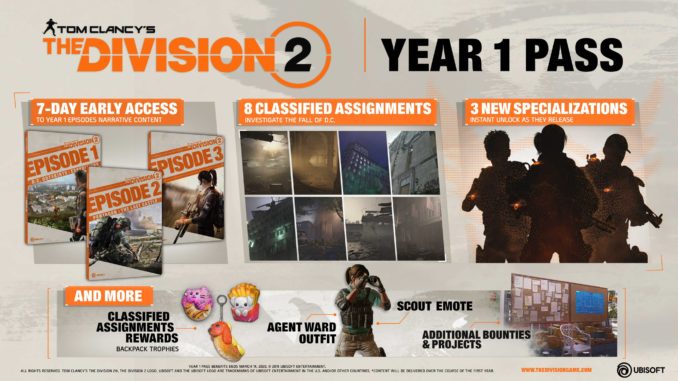 The Division 2's Year 1 Pass is an optional addition to the full game and doesn't give any advantages over players who don't own the pass. The Year 1 Pass includes the following content:
7-Day Early Access to Episode Narrative Content

Owners of the Pass will have a 7-day early access to the narrative content only, included in all Year 1 Episodes.

Instant unlock of the Year 1 Specializations

At launch, The Division 2 will include three Specializations, instantly available to everyone when reaching max level (Level 30).
Throughout Year 1, three additional Specializations will be released. Year 1 Pass holders will unlock them right away.
For those who do not have the Year 1 Pass, Specializations will be released at the same time, but must be unlocked over time through gameplay.
Year 1 Pass holders will also be able to earn exclusive cosmetic items with each Specialization's release.

Exclusive Access to Classified Assignments

Throughout Year 1, Pass holders will have exclusive access to 8 Classified Assignments, which will provide more story behind the events leading to your arrival in D.C.
Completing each assignment will award players with a unique and exclusive backpack trophy to customize your Agent's look.

Additional Bounties and Projects

Bounties in The Division 2 are special tasks to eliminate specific enemy targets, while Projects are assignments to complete various tasks around D.C.
As a Year 1 Pass holder, you will get access to one additional Bounty per week and one extra Project per day for a Challenging mission.
This perk ends on March 1st, 2020.

Exclusive Cosmetic Items

Year 1 Pass holders will get access to these exclusive rewards: the Agent Ward Outfit and the Scout emote.
The Year 1 Pass is included in The Division 2's Gold, Ultimate, Dark Zone Definitive and Phoenix Shield Edition (version overview), but will also become available as a separate purchase when the game launches.
---
Post-Launch Monetization
There will be two ways to purchase additional content for The Division 2 at launch. The first option is to buy the previously described Year 1 Pass, while an in-game Apparel store will offer cosmetic items in the form of microtransactions for purchasable Premium Credits.
After launch, the developers will introduce two types of Apparel Caches, consisting of cosmetics only to ensure that there will be no advantages over players who don't want to spend additional money on DLC.
Getting cosmetics from gameplay should be fun, exciting and rewarding.
It's up to every player out there to unlock these items naturally through normal gameplay or by participating in the newly time-limited Events that will yield dedicated Caches.
Standard Apparel Caches contain items of a "standard pool" of cosmetics that can be obtained via playing the game and completing different activities in the world. This type of cache cannot be purchased.
Event Apparel Caches contain cosmetics of a new and unique pool for a limited time. Event Caches can be earned by playing the game and completing activities during the event, and can also be purchased with Premium Credits during that time. Once the time-limited vanity event is over, these cosmetics will go over into the "standard pool".
Event Caches will furthermore not contain duplicate items due to a finite number of Event Caches, while looted duplicated items of Standard Caches will be counted towards the player's progress for the next Cache. The drop rate of each cosmetic item will be the same across all Caches, while a more transparent preview of items of Event Caches will be provided at the start of every event.