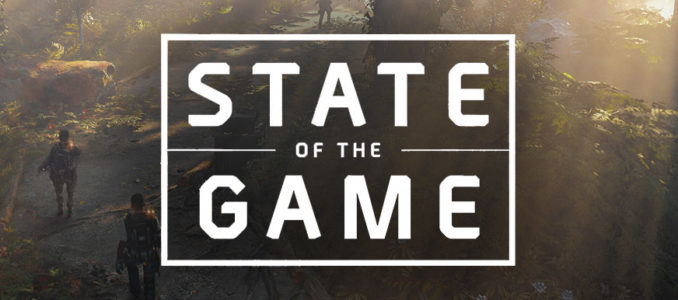 Today's State of the Game episode #124 from June 12th, 2019, was almost entirely dedicated to this year's E3 in Los Angeles.
Besides a short recap of The Division 2's Year 1 content, the currently on the Public Test Server deployed Title Update 4 (preview) and the new Specialization (preview) will be released sometime during next week, so Hamish Bode, who was once more joined by Game Designer Rasmus Künstlicher. This Friday will, therefore, mark the end of this PTS phase.
Although we don't have a complete list of all the changes yet that will drop with the upcoming update – the full patch notes will be published next week, prepare yourself for some changes in the following areas that have already been covered in the previously linked State of the Game article from last week:
New Specialization "Gunner"
New Exotic "

Dodge City Gunslinger's

"
Specializations rework
Mods:
Generic Mods cannot be longer stacked in endgame builds. System and Protocol Mod requirements will be only based on their color anymore and not on the type itself.
Moreover, the dev team is still investigating the issue with the not rewarded Raid Arm Patches for players who completed the Raid within the first week. Also, the unreliable hit registration in the Shooting Range some players have noticed was only an issue that occurred in there, but nowhere else in the Open World.
The developers also mentioned that the Signature Weapons are currently not working as expected on the PTS when it comes to their damage output, something that will get fixed by Title Update 4 as well.
In the meantime, Named High-End Items, which currently come with a lore snippet but are otherwise not further distinguishable to their regular High-End counterparts, will receive some unique design updates to make them more exclusive. For example, one of the items that will be reworked is the F2000 Shield Splinterer.