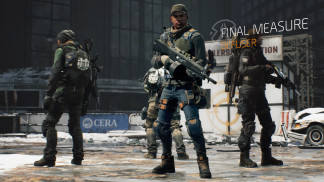 The Final Measure Gear Set is for players who'd like to be a little bit more tankier then the rest, with the 4 Set Bonus ability to defuse hostile grenades once you have dealt damage with your own ones.
Set Bonuses
Set Bonus (2):
+25% Exotic Damage Resilience
Set Bonus (3):
+15% Protection from Elites
Set Bonus (4):
Talent | Final Measure
When in range of hostile grenades or mortars, defuses them and adds grenades to your inventory. Can only happen once every 8 seconds.
Set Item Drop Locations
Update 1.4 changed the way of how and where Gear Set items can be obtained. Finding them and building a set might take a while, but it's worth it if you want to max out your character.
If you are now looking for a specific set piece, you could just play one of the three currently available Incursions:
Falcon Lost: Gloves, Mask
Clear Sky: Chest, Holster
Dragon's Nest: Backpack, Kneepads
Please keep in mind that vendor stocks are refreshing every few hours, so if you don't see them now, simply come back later.
---
Back to the Gear Sets overview.
Discuss in Forum
Leave us a comment below
Comments