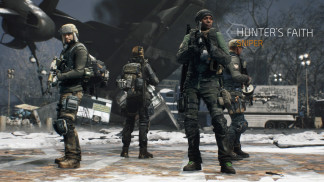 The Hunter's Faith Gear Set is for players that operate from high range and grants a heavy boost for Marksman Rifles.
Set Bonuses
Set Bonus (2):
+20.0% Optimal Range
Set Bonus (3):
+10.0% Headshot Damage
Set Bonus (4):
Talent | Hunter's Faith
Hitting an enemy with a bullet grants you and your group temporary protection. The further your shot, the more protection. Each group member's protection disappears after getting hit by one hostile bullet.
Set Item Drop Locations
Update 1.4 changed the way of how and where Gear Set items can be obtained. Finding them and building a set might take a while, but it's worth it if you want to max out your character.
If you are now looking for a specific set piece, you could just play one of the three currently available Incursions:
Falcon Lost: Gloves, Mask
Clear Sky: Chest, Holster
Dragon's Nest: Backpack, Kneepads
Please keep in mind that vendor stocks are refreshing every few hours, so if you don't see them now, simply come back later.
---
Back to the Gear Sets overview.
Discuss in Forum
Leave us a comment below
Comments