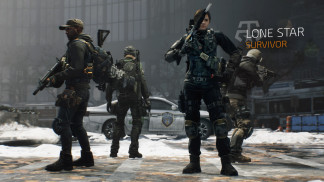 The Lone Star Gear Set allows you to take longer tours without having to refill your magazines and also boosts your LMG as well as Shotgun damage output.
Set Bonuses
Set Bonus (2):


+100%

Ammo Capacity
Set Bonus (3):


+8%

 LMG Damage


+8%

 Shotgun Damage
Set Bonus (4):
Talent | Lone Star
When holstering a weapon its ammo is instantly refilled.
Set Item Drop Locations
Update 1.4 changed the way of how and where Gear Set items can be obtained. Finding them and building a set might take a while, but it's worth it if you want to max out your character.
If you are now looking for a specific set piece, you could just play one of the three currently available Incursions:
Falcon Lost: Gloves, Mask
Clear Sky: Chest, Holster
Dragon's Nest: Backpack, Kneepads
Please keep in mind that vendor stocks are refreshing every few hours, so if you don't see them now, simply come back later.
---
Back to the Gear Sets overview.
Discuss in Forum
Leave us a comment below
Comments