As an Agent of the SHD, you will encounter a variety of friendly and hostile factions in Tom Clancy's The Division 2, each following certain activities and behavior patterns depending on the daytime/weather with different faction-typical means to achieve their own goals to get Washington, D.C. under their control.
Different motives encourage these people to stay in the partly contaminated districts of the city to fight for their territories, even without your interference.
SHD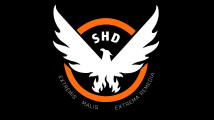 As a member of the Strategic Homeland Division (SHD) you are not the only one who is familiar with your task.
Other players out there have the same goal in mind – taking back Washington, D.C. Agents may turn away from the organization and become Rogue Agents.
---
CERA
CERA is an Emergency Response Organisation (also Catastrophic Emergency Response Agency), who first led the evacuation and quarantine in New York after the outbreak of the virus happened. They helped the citizens by providing shelters and setting up food supplies and medical care, but not much is left of this when taking a closer look at D.C.
---
JTF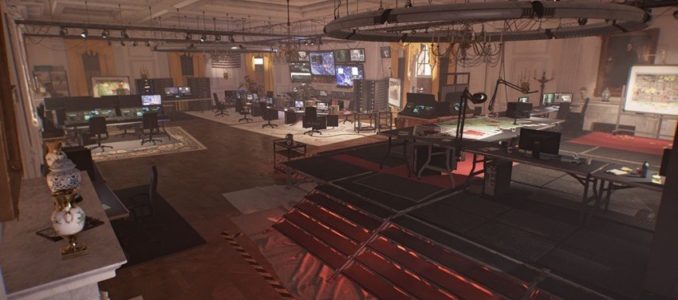 The JTF, or also called Joint Task Force, consists of former members of certain government organizations like the National Guard, police, fire services and medical personnel. While the JTF was still actively fighting in NYC, they have fully retreated in D.C. after their failed quarantine attempt on Roosevelt Island and are now defending and maintaining the Base of Operations – the White House – with all that's left.
Characteristics
Identifiers: Uniformed, US flag
Location: Base of Operations
Goal: Protect and serve
Role: Ally
Intelligence Brief: Joint Task Force
6 MB /
5938 downloads
---
Civilians
For the first time in The Division's history, seven months after the crisis hit NYC, civilians will actively participate in territorial fights to secure supply routes to rebuild their society through locally established Settlements in Washington, D.C. Besides Settlements, the civilians are also holding Control Points that are scattered around the city which enemy factions, in turn, try to take over every now and then.
Because they cannot survive on their own, they have certain demands for food, water and other consumables you as an Agent need to take care of.
---
True Sons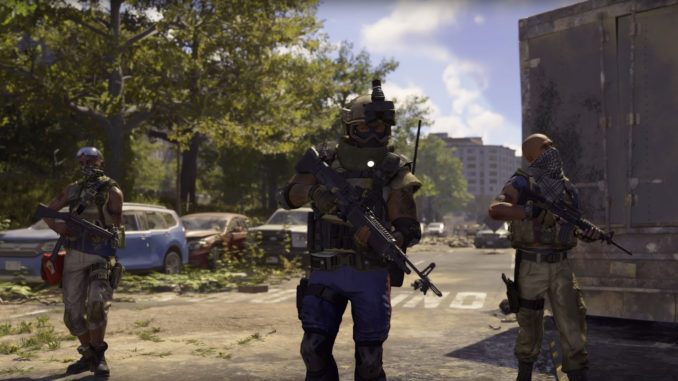 The True Sons are a former JTF unit turned paramilitary group of radical mutineers and trained criminals determined to eliminate all enemies and rivals in their pursuit of domination. Known for their brutal discipline and complete apathy, they are a highly coordinated and dangerous faction. According to them, America was founded through bloodshed, and through bloodshed, a new society will rise. Whatever it takes, True Sons will be at the top of the food chain.
There is no room for weakness. Cowards die on their knees. It's gonna be great.Antwon Ridgeway
When the pandemic broke out, chaos and panic spread across Washington, D.C. In an attempt to control the spreading of the virus, the JTF established a quarantine on Roosevelt Island. Colonel Antwon Ridgeway was given the responsibility to administer the quarantine and ensure that everything ran smoothly. Seeing all the tragedy and despair caused by the virus, Ridgeway started to lose faith in the JTF's ability to save Washington D.C. He quickly came to the conclusion that there was no way they were all going to survive.
Read more about it in the official Intelligence Annex about the True Sons.
Characteristics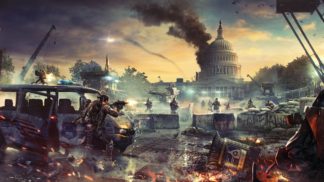 The "True Sons" is the first faction you will encounter in The Division 2. Although they are following a very strategic approach and are very well coordinated, their behavior will change the more people they lose, which can eventually lead to the point of them give up on their strategy and taking you down at all costs.
True Sons do not think twice about making examples out of people to further ensure obedience. Either you join them, or you die. Whoever and whatever stands in-between True Sons and General Ridgeway's position as absolute rulers of Washington D.C. will be eliminated.
Identifiers: Uniform, tactics, arrogant behavior
Goal: Intimidation, cruelty, and violence
Role: High-level threat; top dogs in D.C. due to their access to weapons, equipment, and expertise
Archetypes
Assault
Immobilizer
Heavy Weapons
Medic
Rusher
Sniper
Tank
Thrower
?
Tip: Shooting a Medic's shock pads when he is trying to revive a downed comrade will destroy them and shocks everyone around him. He won't be able to use them again.
---
Hyenas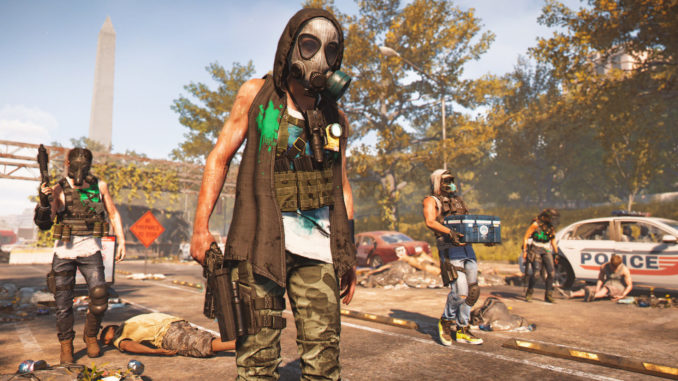 The Hyenas are a loosely organized gang of opportunistic raiders that prey on struggling civilian encampments through violence and intimidation. These hedonistic scavengers take everything they can steal and destroy everything else to deprive their enemies of valuable resources. They are led by a council of the strongest pack leaders.
Characteristics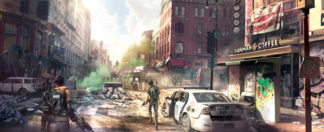 A fictional drug called "Spice" enhances the Hyenas' durability when consumed the right way. This consumption process can be interrupted by the player and used against them by targeting their weak points.
However, make sure to keep some distance as its explosion not only causes dizziness to the enemy, but also to the player in the form of screen blur if you are standing right next to it.
Identifiers: Green gas, riot shields and helmets, shouting
Goal: Causing chaos
Role: Low-level threat
Archetypes
Assault
Controller
Medic
Rusher
Sniper
Tank
Thrower
---
Outcasts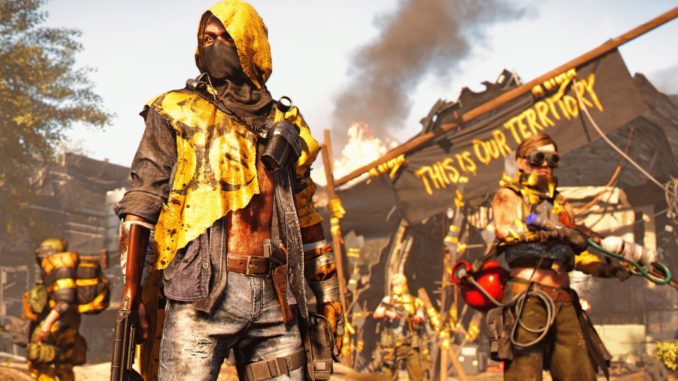 The Outcasts are bitter survivors of a forced quarantine bent on revenge against those who brutally imprisoned them and the society that stood by and let it happen. Their charismatic, bloodthirsty leader believes everyone is complicit and urges her followers to punish the guilty by spreading sickness and murdering indiscriminately.
Characteristics
You will mostly encounter the Outcasts in the Dark Zones, but they are also present in the Open World. While behaving similarly as the Cleaners did in the first game, but seem to be more chaotic.
Identifiers: Yellow uniforms, flamethrowers
Goal: Causing chaos, spreading sickness
Role: Low-level threat
Archetypes
Assault
Heavy Weapons
Support
Thrower
---
Black Tusk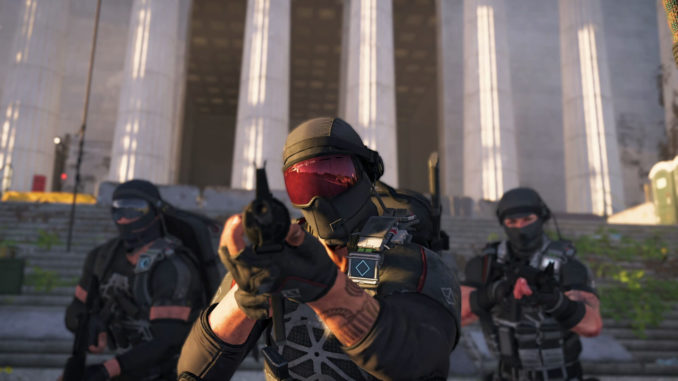 The Black Tusk is a secretive private military organization that operates on an unknown agenda. They are disciplined and highly organized, and their unparalleled equipment makes them the biggest threat The Division has ever faced.
Fighting the Black Tusks
This faction will arrive in Washington, D.C. when the game seems to be going towards an end, but that's where it starts.
The Black Tusks will try to seize control over the streets and invade Strongholds as well as Control Points in the Open World. More about the Invaded World.
Characteristics
Identifiers: High-tech equipment and support tools
Goal: Invading the World (Washington, D.C.)
Role: High-level threat (endgame)
Archetypes
Assault
Controller
Medic
Rusher
Sniper
Tank
Thrower
Warhound
Discuss in Forum
Leave us a comment below
Comments