The Division 2's PC version has been developed alongside the other versions of the game and comes with features like full UI and HUD customization, 4K, HDR and Widescreen/Multiscreen support.
Besides an uncapped frame rate and uncapped display resolution, lots of things have been optimized since The Division 1 to make the game playable for as many players as possible and offer the best experience on PC.
The developers have also worked together with the AMD developer technology team to optimize it even further. Please find the system requirements for The Division 2 down below.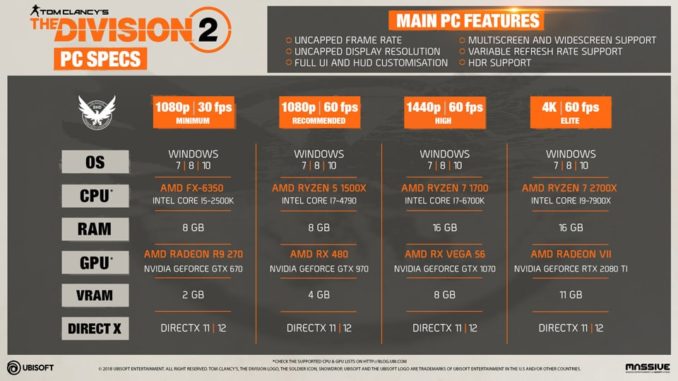 ---
Minimum: 1080p | 30 FPS
OS: Windows 7 | 8 | 10
CPU: AMD FX-6350 | Intel Core I5-2500K
RAM: 8 GB
GPU: AMD Radeon R9 270 | Nvidia Geforce GTX 670
VRAM: 2 GB
DIRECT X: DirectX 11 | 12
Recommended: 1080p | 60 FPS
OS: Windows 7 | 8 | 10
CPU: AMD Ryzen 5 1500X | Intel Core I7-4790
RAM: 8 GB
GPU: AMD RX 480 | Nvidia Geforce GTX 970
VRAM: 4 GB
DIRECT X: DirectX 11 | 12
High: 1440p | 60 FPS
OS: Windows 7 | 8 | 10
CPU: AMD Ryzen 7 1700 | Intel Core I7-6700K
RAM: 16 GB
GPU: AMD RX Vega 56 | Nvidia Geforce GTX 1070
VRAM: 8 GB
DIRECT X: DirectX 11 | 12
Elite: 4K | 60 FPS
OS: Windows 7 | 8 | 10
CPU: AMD Ryzen 7 2700X | Intel Core I9-7900X
RAM: 16 GB
GPU: AMD Radeon VII | Nvidia Geforce RTX 2080 TI
VRAM: 11 GB
DIRECT X: DirectX 11 | 12