Tom Clancy's The Division is a by Ubisoft Massive, Ubisoft Reflections, Ubisoft Red Storm and Ubisoft Annecy developed Open World Shooter RPG,  which was firstly announced at E3 2013 for the next-gen consoles Xbox One, PlayStation 4 and some time later also for PC and was released on March 8th, 2016.
Dark Winter
 and the in 2007 by US president signed 
Directive 51
. Unlike other titles of
Ubisoft's Tom Clancy series
, including Ghost Recon, Rainbow Six and Splinter Cell, The Division plays in the aftermath of the catastrophe, while in the aforementioned games players take preventive measures to avoid the worst.
The Story
A deadly pandemic affects New York City. The infrastructure collapses. After only a few days without food and water, the society dissolves into chaos. The Division, an autonomous unit of tactical agents, is activated. The agents of The Division live unobtrusively among us, but are trained to operate independently, if nothing else will work. They are fighting to prevent the fall of society, but the agents will soon find themselves in a conspiracy and fight not only the effects of am artificially produced virus, but also the threat behind it. If everything collapses, your mission begins.
Official Trailer
---
Scene New York City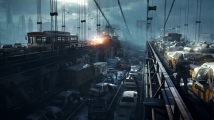 The Division plays in the near future in an already by a pandemic occupied New York. With use of the specially for the game developed engine called Snowdrop Engine, Ubisoft lets NYC appear in a new, but quite conscious different light. The game world is similar to the original in many ways, so you just get a feeling for the real New York. The 5. Intelligence Annex  tells more about the experiences gathered there by the developers.
Most of the time you spend in Manhattan, while short explorations will lead you to other districts like Bronx, Queens, Brooklyn or Staten Iceland.
Single- and Multiplayer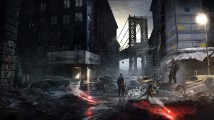 The Division leaves it to you whether you prefer to fight alone against the evil, or in co-op mode with friends and other players around the world to defeat the perpetrators of the virus. But that's not all, because in the so-called Dark Zone you can also measure yourself against other players.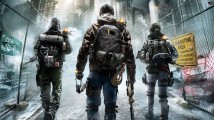 Withdraw from the combat zones of New York and refresh yourself in the Green Zone. Here you have the opportunity to talk with other players, change your equipment, build new alliances and more. Moreover, you always have an overview of your characters and change their appearance as you like it.
The Name "The Division"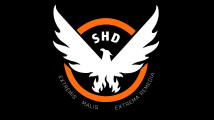 The name of Tom Clancy's The Division is based on the one hand on the secret organization "The Division", which is comparable to the CIA and the FBI and aims at the collapsed society in the case of an attack, where former friends can rapidly become enemies.
---
Announcement at E3 2013
More videos of The Division.
Discuss in Forum
Leave us a comment below
Comments